Refugee crisis
About this event :
| | | | |
| --- | --- | --- | --- |
| Today's refugee crisis is the biggest since World War II, and it's growing. When this talk was given, 50 million people had been forcefully displaced from their homes by conflict and war; now, a year later, the number is 60 million. There were 3 million Syrian refugees in 2014; now there are 4 million. Inside this overwhelming crisis are the individual human stories — of care, growth and family, in the face of lost education, lost home, lost future. Melissa Fleming of the UN's refugee agency tells the refugees' stories — and asks us to help them rebuild their world. | | | |
Why are so many people feeing their countries? How can we help them? How can we solve this situation? These are the question we addressed in this event.
The talk (19:00-19:30)
We started the event showing the TED talk from Melissa Fleming (in english with spanish subtitles).
The discussion (20:15-20:30)
Afterwards, we discussed about this subject among our group. All attendees could express their opinions, contributing thus to our discussion.
Networking (20:30-21:30)
As always, after the discussion we had the possibility to do networking enjoying drinks and tapas for all (included in the ticket price). Additionally, we gave our attendees the possibility to propose ideas and to offer themselves to alleviate the crisis. In the following pictures you can see the result of it. Each Post It represents an idea or a proposal to help: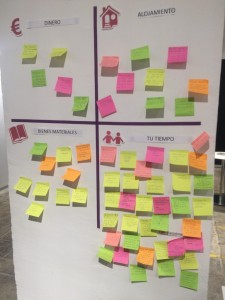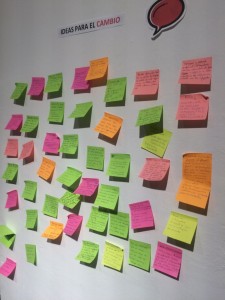 The photos of the event

About TEDxBarcelonaSalon
At our TEDxBarcelonaSalon events we foster networking, dialog and the discussion among all members of TEDxBarcelona. In order to achieve this we meet once a month and listen to an interesting talk. After watching the talk we discuss about the presented subject. Here the list of past Salon events.