Pollyanna Nethersole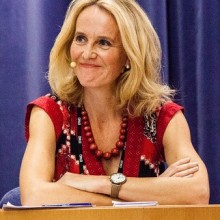 Sobre mi:
Información biografica:
I'm from Somerset in the UK and have been living in Barcelona for the last 15 years. I have two lovely children, both now bigger and far better than me! Work-wise, I'm passionate about communication in all its forms - there's a lot to be said about it!
Me apasiona:
The concept of vocation and how we may practically apply that in today's world.
Una idea que merece ser compartida:
Motivation is now, I think, the big divide ... I'm curious about how we get ourselves into gear and maintain focus?
Gente no sabe que soy bueno en:
I make a killer cup of tea !!!
Ponte en contacto conmigo:
You need inspiration on speech writing, communication skills or a decent cup of tea!
Otros perfiles:
Eventos Pasados:
Contacto:
Puedes contactar a este usuario mediante el siguiente formulario: