Samuel R. Asperilla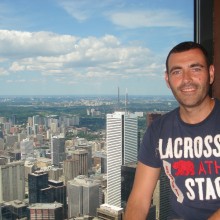 About me:
Biographical Info:
I am a teacher of economics for A-level students in Spain. I have worked for companies such as Ford Motor Company, Jones Lang LaSalle and Carrefour/Dia mainly focused on Real Estate departments.
I'm passionate about:
Economics, Real Estate solutions and Education, and exchanging ideas with people from different from around the Globe. I am very interested in exchanging knowledge with other teacher of economics for advanced level students in other countries
An idea worth spreading:
I believe that the world is becoming a much better world and that this idea must be spread around the globe. There is something that we are performing really well and it is necessary that we keep on working on the same direction.
People don't know that I'm good at:
Communicating and understanding global issues.
Contact me if:
For any conferences in Barcelona from 2nd July until the beginning of September 2014, or any other throughout the year if I have the opportunity to travel.
Other profiles:
Attended Events:
Contact:
You can contact this user using this form: