Angèle Biette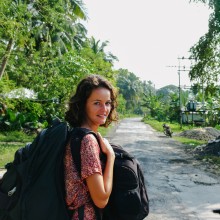 Sobre mi:
Información biografica:
I'm a French woman backpacking alone around the world, to meet inspiring people making the world a better place. So far, I've been to 13 countries in 13 months, to search for these everyday heroes and tell their inspiring stories through photography and film on my page, Bloom.
Me apasiona:
People, travels, photography, nature & storytelling
Una idea que merece ser compartida:
The journey of growth starts with a seed
Gente no sabe que soy bueno en:
knowing a lot about old and botanical roses!
Ponte en contacto conmigo:
You want to make the world a better place
Otros perfiles:
Eventos Pasados:
Contacto:
Puedes contactar a este usuario mediante el siguiente formulario: