Angèle Biette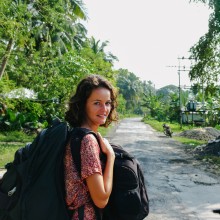 About me:
Biographical Info:
I'm a French woman backpacking alone around the world, to meet inspiring people making the world a better place. So far, I've been to 13 countries in 13 months, to search for these everyday heroes and tell their inspiring stories through photography and film on my page, Bloom.
I'm passionate about:
People, travels, photography, nature & storytelling
An idea worth spreading:
The journey of growth starts with a seed
People don't know that I'm good at:
knowing a lot about old and botanical roses!
Contact me if:
You want to make the world a better place
Other profiles:
Attended Events:
Contact:
You can contact this user using this form: