Ana María Huerta Molinero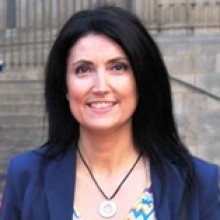 About me:
Biographical Info:
HAY MUCHOS MÁS LIBROS ESCRITOS CON LO QUE ME QUEDA POR APRENDER, QUE LOS QUE YO PODRÍA ESCRIBIR CON LO QUE SÉ: TO SUM UP...CHASING HUMILITY!!!
I'm passionate about:
TODO...LA VIDA ES COMO UN INTERRUPTOR: ON OR OFF!!!
An idea worth spreading:
TODO ES IMPROBABLE, PERO NADA ES IMPOSIBLE...
People don't know that I'm good at:
EN TODO Y EN NADA...TODO ES MEJORABLE...KEEP LEARNING!!!
Contact me if:
HAZLO...NO LO PIENSES TANTO...JUST DO IT!!!
Other profiles:
LinkedIn:
linkedin.com/in/ana-maría-huerta-b5b58457
Attended Events:
Contact:
You can contact this user using this form: