Susan Dreger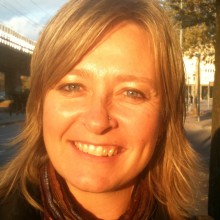 Sitio Web:
Sobre mi:
Información biografica:
Teacher, teacher-trainer, speaker, web content editor, web 2.0 fan, material creator, mother, cyclist, traveler, Canadian in Barcelona (no particular order!)
Me apasiona:
Technology for language learning
Una idea que merece ser compartida:
Learning never ends...
Gente no sabe que soy bueno en:
cooking
Ponte en contacto conmigo:
You would like me to speak at a TEFL/TESOL or Educational Technology event. Topic: Techy Tools for Teachers, Techy Tools for Schools, Communicative Approach and Web Tools in VET, VLEs and Assessment with rubrics...
Otros perfiles:
Eventos Pasados:
Contacto:
Puedes contactar a este usuario mediante el siguiente formulario: