Lídia Ruiz Velasco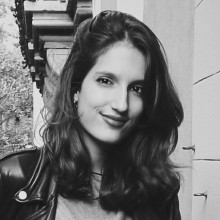 About me:
Biographical Info:
Graduada en Publicidad y Relaciones Públicas con experiencia en Marketing y Comunicaciones amante de las personas y las pasiones. Estoy fuertemente interesada en "social business, innovation and entrepreneurship". Creo firmemente en el poder de la innovación y los cambios. Juntos podemos hacer de este mundo un lugar mejor.
I'm passionate about:
el arte, la música, las personas, la comunicación, la poesía, viajar, aprender, leer, perderme por cualquier lugar, las buenas opiniones, el respeto y...vivir.
An idea worth spreading:
Las mejores ideas salen de compartir opiniones desde distintos puntos de vista.
People don't know that I'm good at:
Hacer reír a todo el mundo.
Contact me if:
Quieres hablar sobre tus pasiones, los proyectos sociales, arte, lugares a los que viajar, etc. Lo que quieras.
Other profiles:
Attended Events:
Contact:
You can contact this user using this form: